Coronavirus Disease (COVID-19) Q&A
If you or someone you know believes they have been exposed to the virus, are exhibiting symptoms, or require regular testing, come to Eastway Medical Clinic and Urgent Care today! Our team of professional and caring staff offers quick, discreet results for COVID-19 testing in Charlotte, NC. We are conveniently located at 1220 Eastway Drive Charlotte, NC 28205. For more information, please call us or request an appointment online.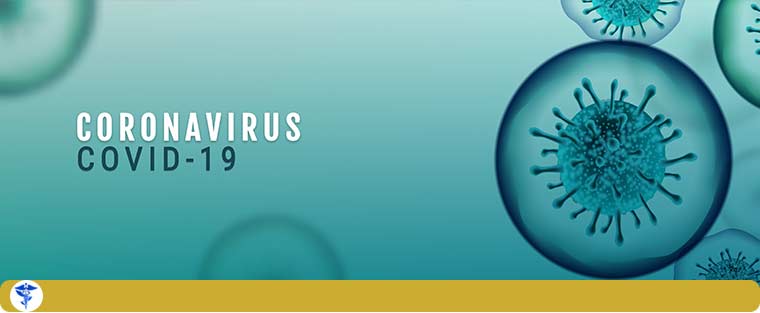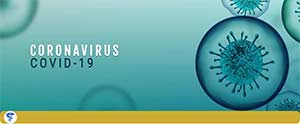 If you are experiencing symptoms of COVID-19, including fever, cough, congestion, shortness of breath, etc., schedule a virtual appointment and be assessed by one of our physicians via video/audio chat (Telemedicine) by calling 704-360 8893, or online.
Frequently asked questions
What is coronavirus?
Coronaviruses are a large family of viruses that cause colds and other upper respiratory infections. The current coronavirus outbreak is known as COVID-19, short for "coronavirus disease 2019." It was first identified in China in December 2019 and has since spread to countries around the world, including the United States.
How does it spread?
It is spread between people who are in close contact with one another (within about 6 feet).
Experts believe it mostly spreads from person-to-person through droplets in the air when an infected person coughs, sneezes or talks– similar to how the flu and common cold spread. These droplets can land in the mouths or noses of people who are nearby or possibly be inhaled into the lungs. It may be possible that a person can get COVID-19 by touching a surface or object that has the virus on it and then touching their own mouth, nose, or possibly their eyes. This is not thought to be the main way the virus spreads. Scientists are still learning more about how this virus spreads. COVID-19 may be spread by people who are not showing symptoms
How can I protect myself?
There are easy steps you can take to protect yourself from COVID-19, and they're the same things you'd do to avoid the flu. We encourage everyone to:
Wash your hands often with soap and water.
Avoid touching your face.
Avoid close contact with someone who's sick.
Stay home when you're sick.
Cover your mouth and nose with a tissue or your sleeve when coughing or sneezing.
Clean and disinfect surfaces and objects people frequently touch.
Should I wear a face mask to prevent COVID-19?
The Centers for Disease Control (CDC) now recommends that people wear cloth masks to block the spread of COVID-19. Cloth masks will prevent those who may have the virus and do not know it from transmitting it to others. Surgical masks and N95 respirators should be reserved for health care workers.
If you have symptoms and need in-person care, please call before arriving at the office. To help protect other patients, you'll be provided a mask upon arrival.
What are the symptoms of COVID-19?
COVID-19 causes symptoms similar to the flu, including fever, cough, and difficulty breathing.
The infographic below gives you information about the symptoms.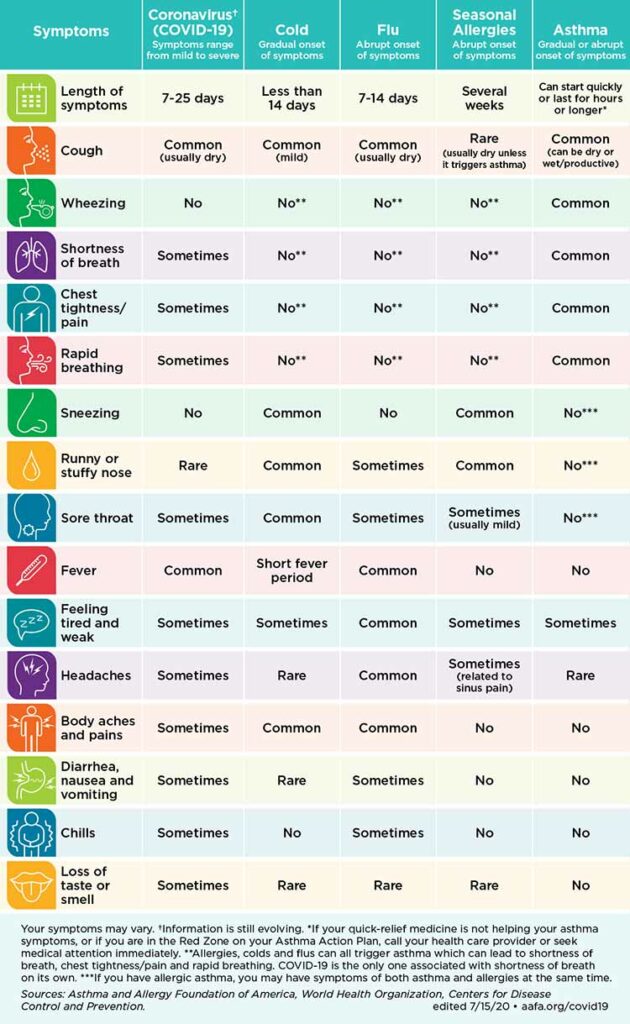 Although the symptoms of COVID-19 and the flu are similar, different viruses cause them. COVID-19 is a new strain of a known virus. Understanding of the new virus and the disease it causes continues to evolve. It was first detected in China and has now been detected in more than 100 countries, including the United States.
If you are experiencing flu-like symptoms, such as fever, cough or shortness of breath, or you are aware that you may have been exposed to someone with known COVID-19, call our office before visiting, or schedule a telemedicine visit.
If you are having difficulty breathing, call 911 or seek immediate treatment at an emergency room.
If you have cold or flu-like symptoms, you should limit contact with other people, including family members, to decrease the spread of infection in case you have Covid-19.
What should I do if I have COVID-19 symptoms?
If you start to feel sick, try not to panic. COVID-19 does not cause serious health problems for most people who are otherwise healthy.
We encourage anyone experiencing COVID-19 symptoms to follow the CDC guidelines:
https://www.cdc.gov/coronavirus/2019-ncov/if-you-are-sick/steps-when-sick.html
Summary of CDC Guidelines
Stay home and rest
Monitor your symptoms
Get rest and stay hydrated
Call healthcare provider ahead of time and notify of your symptoms if you have medical appointment
Notify the dispatch personnel of your symptoms for medical emergencies
Cover your cough and sneezes
Wash your hand often with soap/water or an alcohol-based sanitizer
Stay in a specific room away from others as much as possible
Avoid sharing personal items
Clean all surfaces that are touched often
How do I get tested?
Testing for COVID-19 is done based on guidelines set by the CDC and NCDHHS. Our board-certified doctors at Eastway Medical Clinic and Urgent Care can determine if you meet the criteria for testing via Telemedicine (Video or Phone chat). If you do, we can arrange for you to have the test done in a drive-up testing center located in our office. drive by our testing location in front of our office and have nasal swab for Covid-19 test collected while you are in your car. For your safety, we have virtual appointments available six days a week.
What COVID-19 tests are available at Eastway Medical Clinic & Urgent Care
There are two different types of tests – diagnostic tests and antibody tests.
A diagnostic test can show if you have an active coronavirus infection and should take steps to quarantine or isolate yourself from others. Currently there are two types of diagnostic tests which detect the virus – molecular tests, such as RT-PCR tests, that detect the virus's genetic material, and antigen tests that detect specific proteins on the surface of the virus.
An antibody test looks for antibodies that are made by your immune system in response to a threat, such as a specific virus. Antibodies can help fight infections. Antibodies can take several days or weeks to develop after you have an infection and may stay in your blood for several weeks or more after recovery. Because of this, antibody tests should not be used to diagnose an active coronavirus infection. At this time researchers do not know if the presence of antibodies means that you are immune to the coronavirus in the future.
Should I be worried about going to Eastway Medical Clinic and Urgent Care?
Your safety is always our first priority. Our office will remain open, and we encourage you to keep your medical appointments unless directed otherwise. If you have concerns, call our office before your appointment.
As is standard for cold and flu season, we have protocols in place to protect patients, visitors and healthcare workers.
If you have respiratory symptoms, we encourage you to use our remote care option, face-to-face video chat (Telemedicine) to get care from home. If you need in-person care for severe respiratory symptoms, please call a local emergency room department or dial 911. We are not equipped to take care of patients with severe respiratory symptoms or other emergencies.
Where can I get care for something other than COVID-19?
Please don't avoid seeking necessary medical care out of concern about COVID-19. For most minor conditions and symptoms, you can get the care you need using face-to- face video chat (Telemedicine). Our facility is still open for In-person care for those who need it. You can make an appointment here.
If your symptoms are life-threatening, call 911 immediately.
Where can I learn more?
With so much information out there, it's important to use reliable sources to stay informed.
For comprehensive information about COVID-19, visit the Centers for Disease Control and Prevention (CDC).
If you would like to speak with one of our doctors about Covid-19 and the possibility of getting tested call us. We serve patients from Charlotte NC, Harrisburg NC, Concord NC, Mint Hill NC, Matthews NC, Belmont NC, Pineville NC, Kannapolis NC, Monroe NC, and Mt Holly NC.