Dr. Joseph Okoye at Eastway Medical Clinic & Urgent Care Charlotte, NC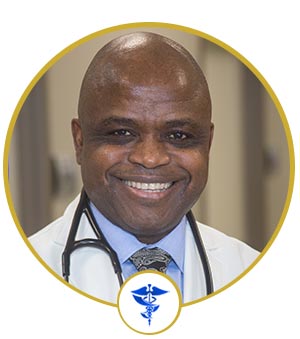 Dr. Joseph Okoye is board certified in internal medicine and is a fellow of the American College of Physicians. He obtained his medical degree in 1988 with honors, completed a one-year rotatory internship, and worked as a primary care provider before proceeding to Germany where he underwent a five-year residency program in Obstetrics and Gynecology. He passed his German Board Exam and became a specialist in Obstetrics and Gynecology (Fachärzt Frauenheilkunde und Gerbutshilfe). He subsequently relocated to the United States and enrolled in MPH (Master of Public Health) Program at the George Washington University, D.C.
He completed one semester before proceeding to do a residency in internal medicine at the College of Physicians and Surgeons of Columbia University at Harlem Hospital Center. He stays up-to-date with the latest research which he applies to his practice with the goal of providing high quality care in the continually evolving field of medicine. He is licensed to practice medicine in North and South Carolina. He is highly regarded by his peers for his expertise and high level of commitment to his patients. He is a member of various medical societies. Dr. Joseph Okoye is married with children. In his free time, he enjoys chess, music, and soccer. He is accepting new patients.