Dr. Sylvia Okoye at Eastway Medical Clinic & Urgent Care Charlotte NC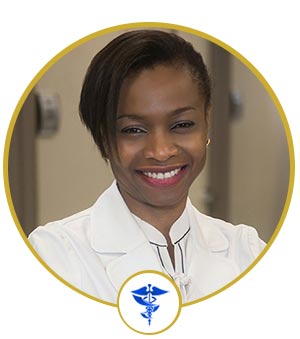 Dr. Sylvia Okoye has been in medical practice for over nineteen years. She is board certified in internal medicine. She graduated from the University of Nigeria Medical School with honors. She underwent a one-year rotatory internship, and thereafter worked as a primary care provider. She subsequently relocated to the United States, and completed her residency training program in internal medicine at Atlanta Medical Center.
She is board certified in internal medicine, and is licensed to practice medicine in North and South Carolina. She worked in various local hospitals where she treated acutely ill patients before she started working at Eastway Medical Clinic and Urgent Care.
Dr. Sylvia is a very knowledgeable and compassionate physician of high repute. She treats her patients as she would treat her family members. She treats a wide spectrum of medical conditions seen in primary and urgent care settings including diabetes, high blood pressure, asthma, allergies, liver, lung and kidney diseases etc. Her hobbies are reading, chess and listening to music. She is married with children. Dr. Sylvia Okoye is accepting new patients.